The Dragonfly at Sleepy Creek presents the Comet Celebration for Education on March 5th, 2022. This is a Celebration Fundraiser organized by the Oakwood Community Education Foundation. All proceeds raised will directly benefit the students and faculty of Oakwood CUSD Unit #76. Please see the attached flyer for additional information.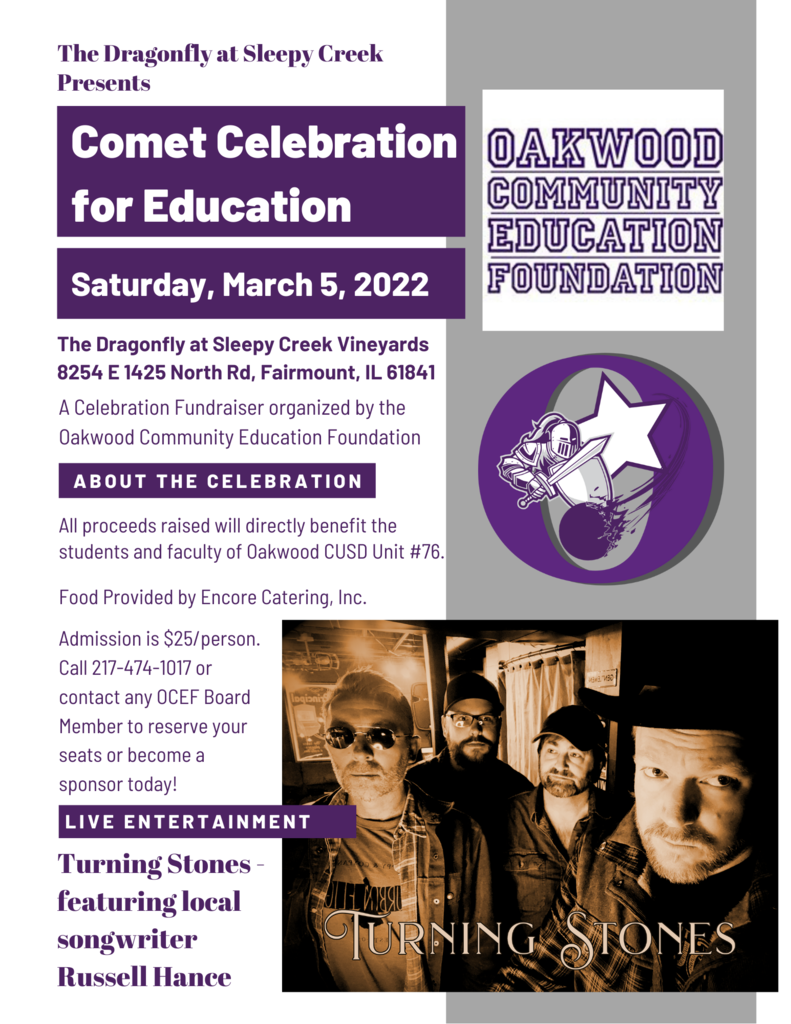 "Dear Oakwood CUSD #76 Families, As we continue to make safety our number one priority, it is important to inform you that today our p.m. Early Childhood/Care Bus was in route and transitioning our 6 students today, January 14, 2022. At approximately 12:07 p.m. near the Nazarene Church on Henning - N. 2100 Road. A car made contact with the rear of Bus #9 during a turnaround. There were no injuries and all parents have been contacted. If you have any further questions, please don't hesitate to contact the Oakwood Grade School or District Office Administration." Thank you, Larry Maynard Superintendent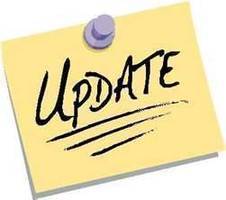 There is NO SCHOOL on Monday, January 17th in observance of Martin Luther King Jr. Day.
Here's the link for the newly updated COVID Guidance that was adopted by the State of Illinois:
https://5il.co/140j3
This includes information on the reduction of close contact individuals to a 5 Day Quarantine. If your student is currently affected, please see the new return dates included in the Guidance document.
Are you interested in making a difference in the lives of our students? See the opportunity below for the procedures in becoming a Substitute Teacher - Superhero!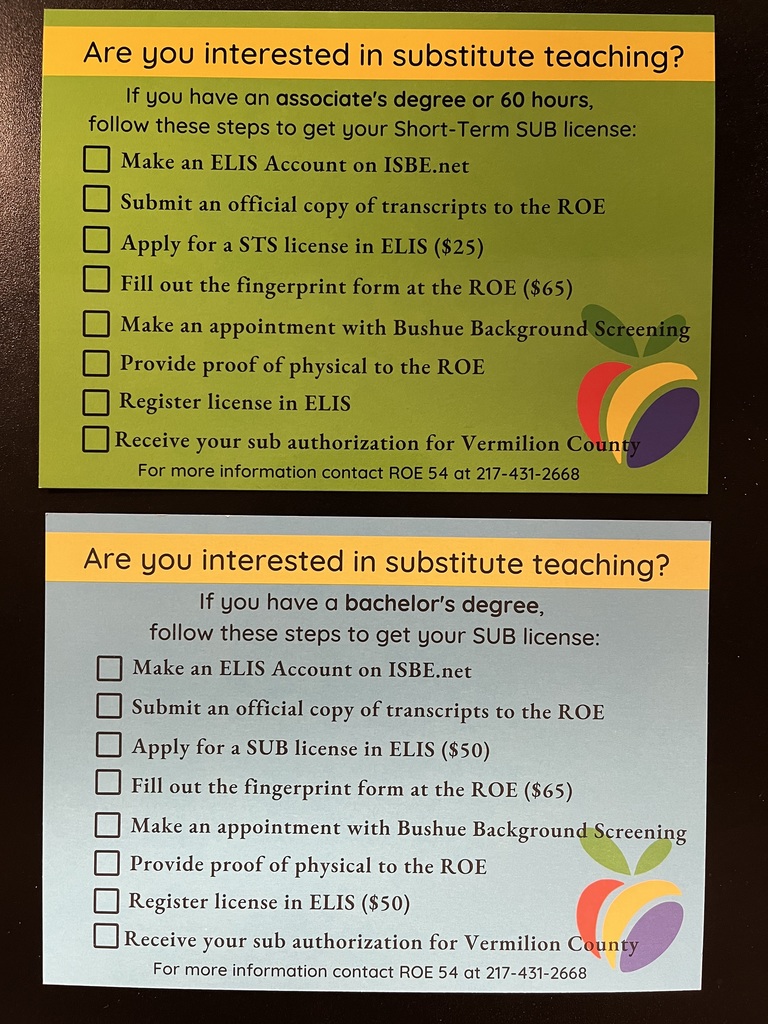 IDPH is holding a Vaccine Clinic at the Oakwood Public Library on January 15th from 8 AM - 12 PM. See attached flyer for more information.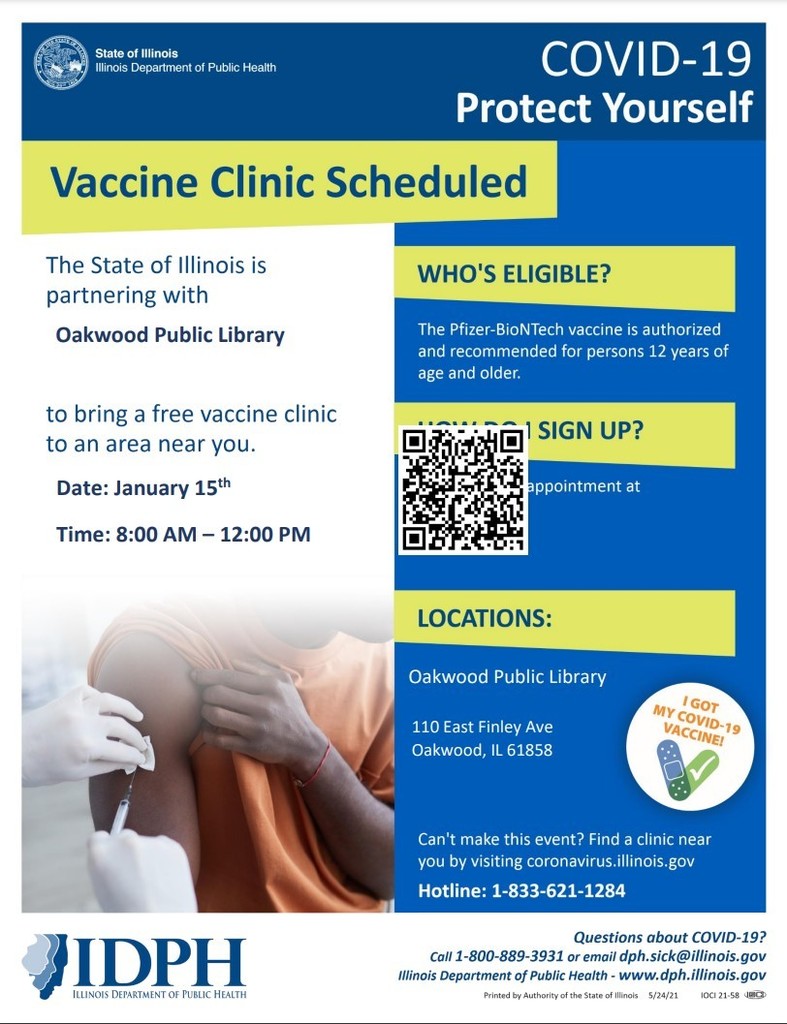 December 31, 2021 (4:10 p.m.) Dear Superintendents: The Illinois Department of Public Health (IDPH) announced yesterday that schools should continue to follow the current IDPH COVID-19 School Guidance, including for isolation and quarantine times. IDPH has adopted the Centers for Disease Control and Prevention's (CDC) recommendation to reduce the number of days for isolation and quarantine for the general public. The CDC expects to issue updated guidance for isolation and quarantine in school settings shortly. We understand that you are eager for this guidance, and we share your sense of urgency. At this time, please continue to follow the guidance currently in place. ISBE is working with IDPH to update the School Guidance as soon as we know more. Thank you, Dr. Carmen I. Ayala State Superintendent of Education Illinois State Board of Education

Here's the link to the latest "For the O!" newsletter from Superintendent Maynard:
https://5il.co/13c05
Dear Oakwood Community Members, It has been brought to my attention that there may be misinformation that is circulating in regard to the 2021 Tax Levy Hearing tomorrow night at 5:15 pm. Therefore, I wanted to let you know that I will be in the Unit Office tomorrow afternoon from 1pm - 4:00 pm for anyone who would like to meet with me to go over the actual levy presentation prior to the hearing. It would be a privilege to be able to meet with our community members to have an informal Q & A prior to the formal hearing. No appointment is necessary. For those interested, I hope to see you tomorrow. In Your Service for Better Schools, Larry Maynard, Superintendent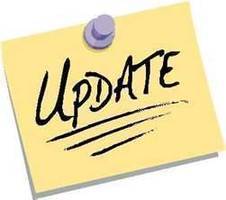 Starting on Thursday, December 9th, the Sailor Street Entrance to the East End of Oakwood Grade School will be closed due to ongoing construction. A follow up message will be provided when the entrance is re-opened.
Good News Update: COVID Close Contact Procedures 2nd Semester Plan (Jan. 2022) In an effort to improve the efficiency and effectiveness of the learning experience for our students, the Oakwood School district #76 will be making a few modifications with our second semester COVID procedures in order to keep healthy students in school for in-person learning. Our goal during this current medical crisis is to continue to adapt carefully as necessary in order to create the conditions that maximize in-person learning in a safe and healthy environment with as minimal disruptions as possible. More Information on the Modified Plan Coming Soon :)
Why are VALUES important? Glue that holds us together. Ruler & measurement for the standard of our expected behavior. Compass that gives us direction. Magnet that attracts top notch people. Fingerprint that uniquely identifies who we are. Map that gets us to our destination.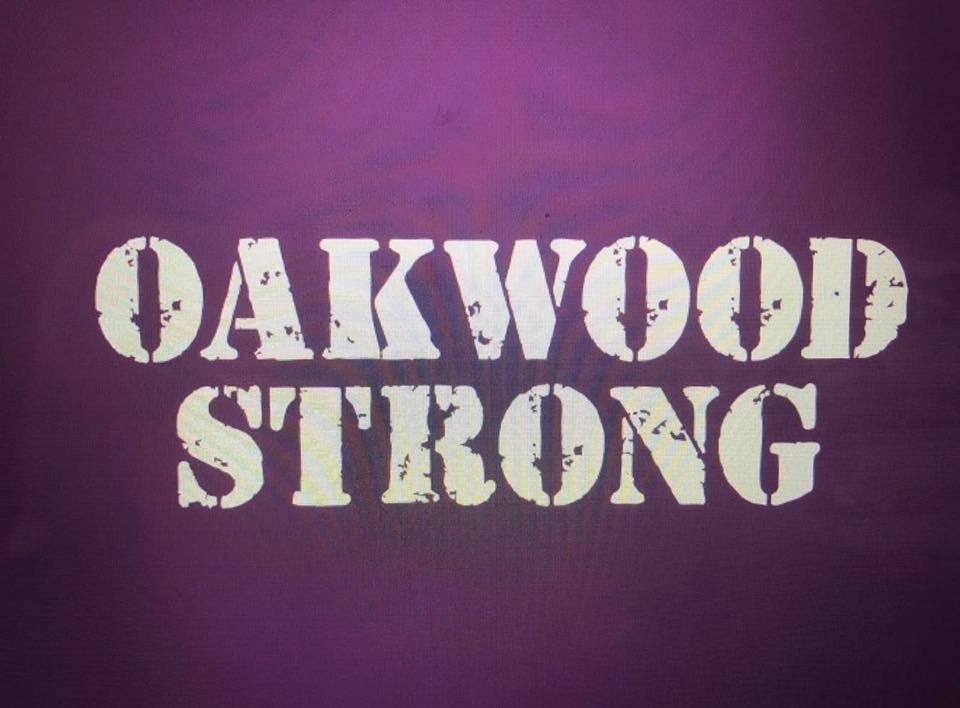 Happy Thanksgiving Oakwood Students, Staff, Families, and Community!
Here's the link to the November "For The O!" Newsletter from Superintendent Maynard:
https://5il.co/123yf
COVID-19 Positive Update-11/19/21 Dear Parents/Guardians: As of today, the Oakwood School District has been informed that we have 21 students from Oakwood Grade School, 25 students from Oakwood Junior High School, and 8 students from Oakwood High School that have received a positive test result for COVID-19. We have coordinated our efforts with the Vermilion County Health Department to promptly identify and monitor individuals who have had recent contact with the COVID-19 positive individuals to prevent further spread within our school and community. The individuals have been placed in isolation per Vermilion County Department of Public Health. All parties who have come into close contact with these students through school activities have been notified. The health and safety of Oakwood C.U.S.D. #76 students and staff are our highest priority, and we recognize the uncertainty and concern regarding the evolving coronavirus (COVID-19) pandemic. We are following guidance from ISBE, IDPH, and the VCHD for best practices and procedures to protect everyone's health.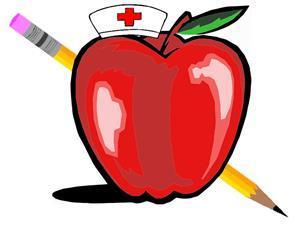 School Board Members Day! Today is a day when we recognize and appreciate our local school board members for their service to the Oakwood School District and Community. We are thankful for your student-centered leadership! #ThankABoardMember Have a great week.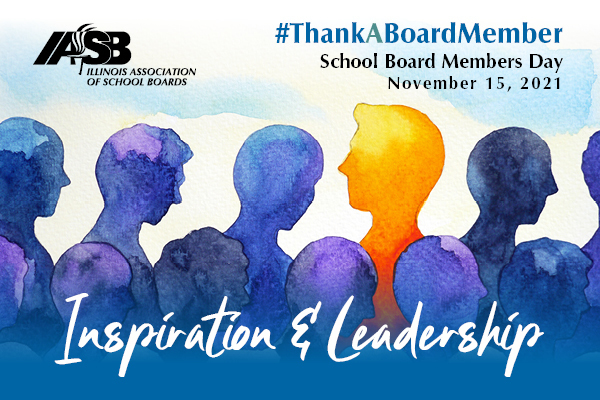 All County Football Team Members were Josh Young, Xander Draper, Gaven Clouse, Bryson Myers, & Griffin Trees!!! Dalton Hobick was Named Special Mention & Austin McDaniel, Conner Matson & Devin Sanders were Named Honorable Mention!!! Congrats OHS Football!!!
Congratulations to Gaven Clouse & Griffin Trees for Making the All-VVC Football Team!!! Congratulations also goes to Josh Young & Bryson Myers for Being Named VVC Special Mention!!! Austin McDaniel was also Named Honorable Mention!!!