Here's some upcoming dates and times for the end of the school year: 1:40 PM/1:50 PM dismissal on Thursday, May 25th and Friday, May 26th. There is no school on Monday, May 29th. The last day of student attendance is an 11:40 AM dismissal day on Tuesday, May 30th. Have a great summer break!

Celebrating Senior Night for Comets Baseball!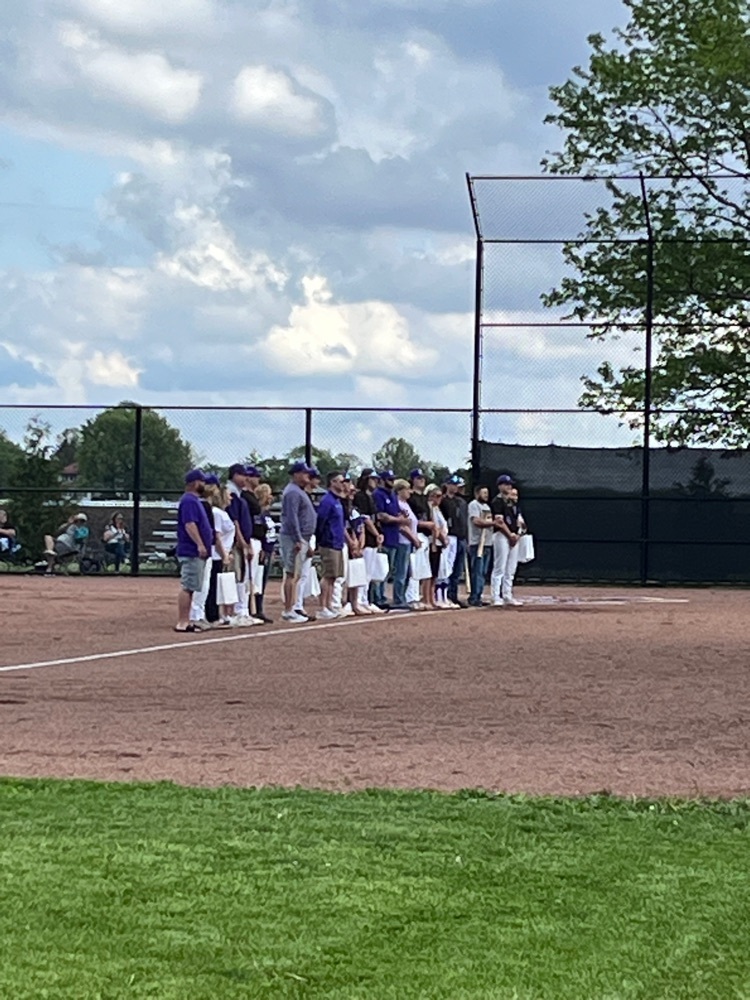 Oakwood Junior High 8th Grade Awards Night is scheduled for Monday, May 15 at 6 pm in the grade school gymnasium.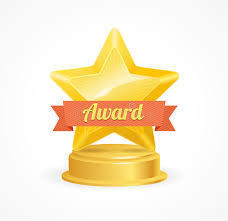 May 8 - 12, 2023 TRIBUTE: Thank you, Oakwood CUSD #76 Educators & Staff! You are truly the heart of our communities. Your students love you, and so do we. Thank you for always putting the needs of your students above your own. We look forward to showing our appreciation to you each day this week which includes a lunch on Wed. provided by the BOE & Supt.
Come support the OGS PTO on Tuesday, May 2nd from 4 PM - 10 PM at Texas Roadhouse in Champaign. See the flyer for more details!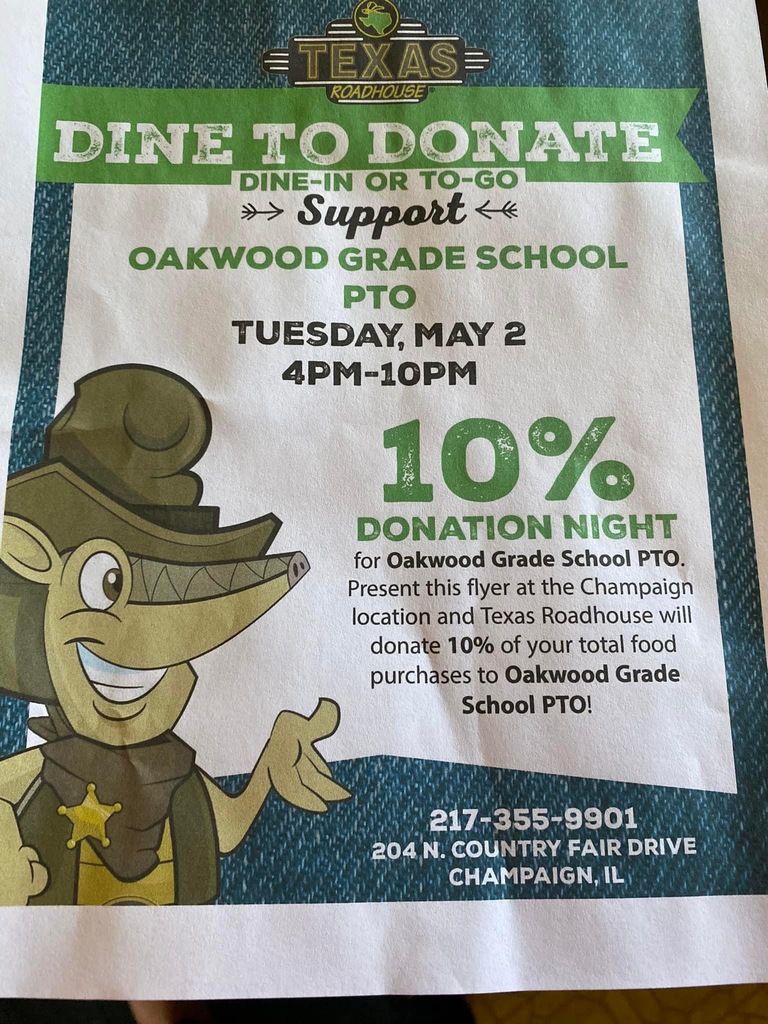 Oakwood CUSD #76 is looking for a District Transportation Director for the 2023-24 school year. Come join our great team of School Bus Drivers! If interested in learning more about this opportunity please contact the Superintendent's Office at 217-446-6081 or send a resume, cover letter, and 3 letters of reference to
maynardl@oakwood76.org
.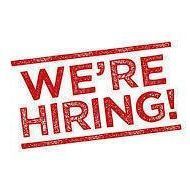 Congratulations to our 2023 Golden Ruler Award Recipients who were recognized last night; Mrs. Wells, Mrs. Marsh, and Mrs. Nicoson. We appreciate your heart for the students of Oakwood CUSD #76. You are a great representation of the values that we share in our school district!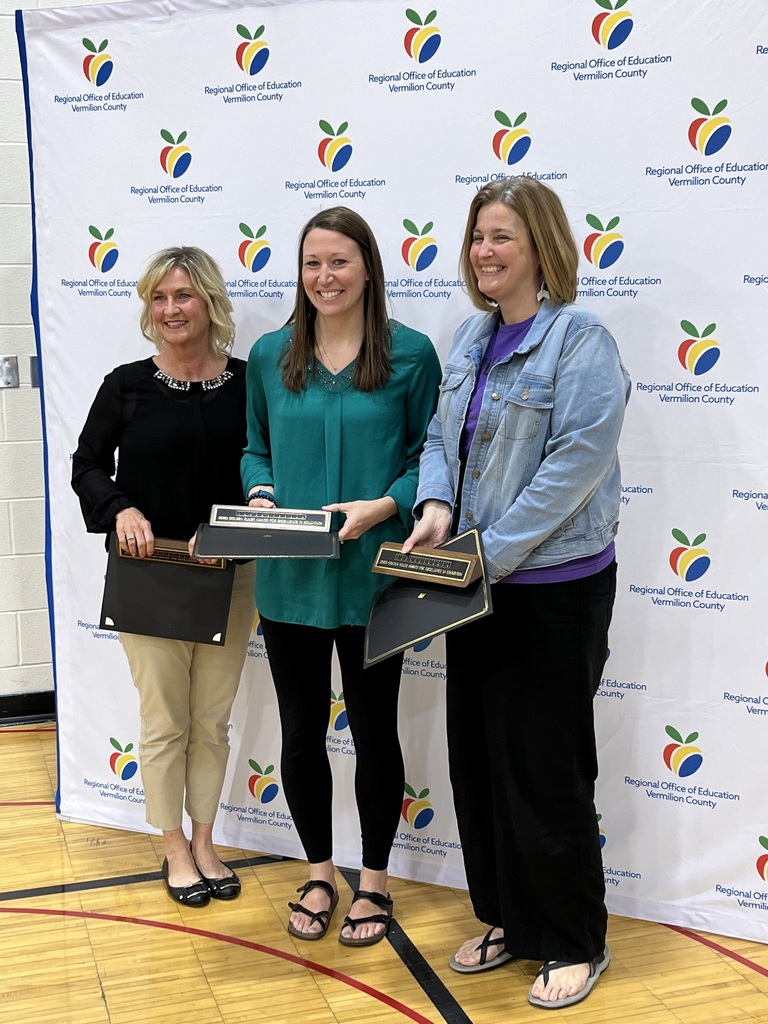 Wednesday, April 26th is an Early Dismissal day for a Teacher's Institute. Oakwood High School Dismisses a 11:30 AM. Oakwood Grade School and Oakwood Junior High dismiss at 11:40 AM.

ILLINOIS PRINCIPAL ASSOCIATION'S - 2023 PRINCIPAL OF THE YEAR AWARD FOR THE ILLINI REGION IS MS. NICOLE LAPENAS FROM OAKWOOD GRADE SCHOOL! CONGRATULATIONS!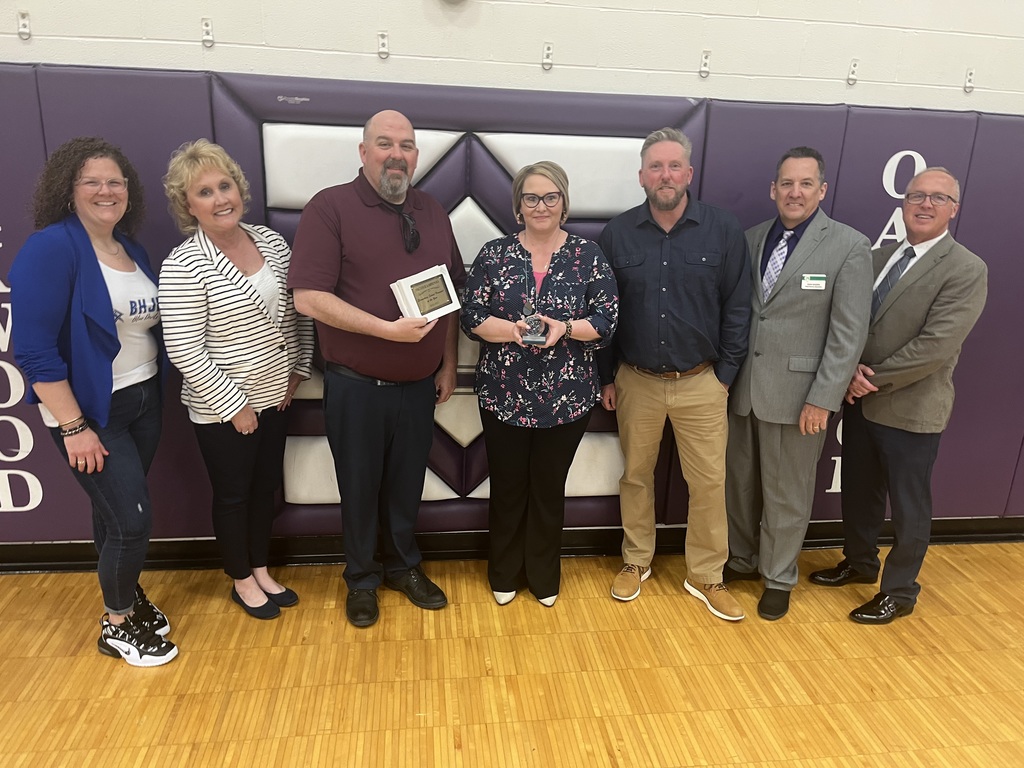 Oakwood Junior High School Honor Roll for 3rd Qtr! Great job students. We are proud of your academic accomplishments.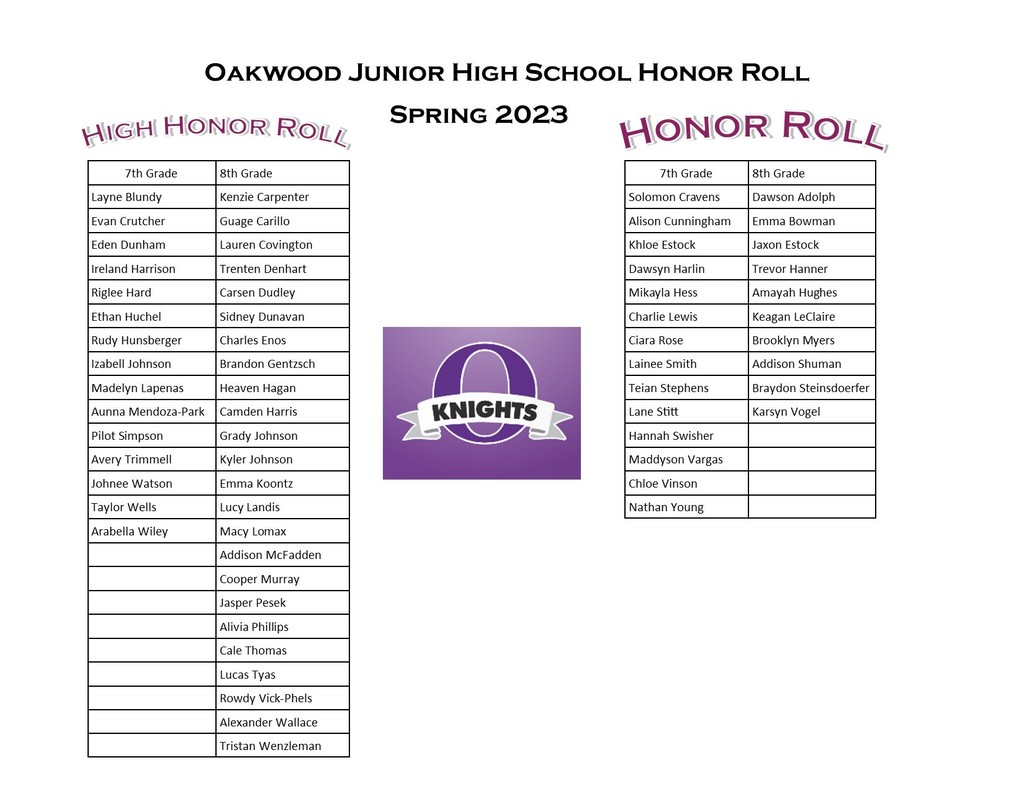 Oakwood Elementary School is looking for some Superstars! Come join a great family of educators!
The 2023 Oakwood Grade School All Star 5k Run and Walk is scheduled for Saturday, May 13th. Check out the registration form for more info:
https://5il.co/1rpsj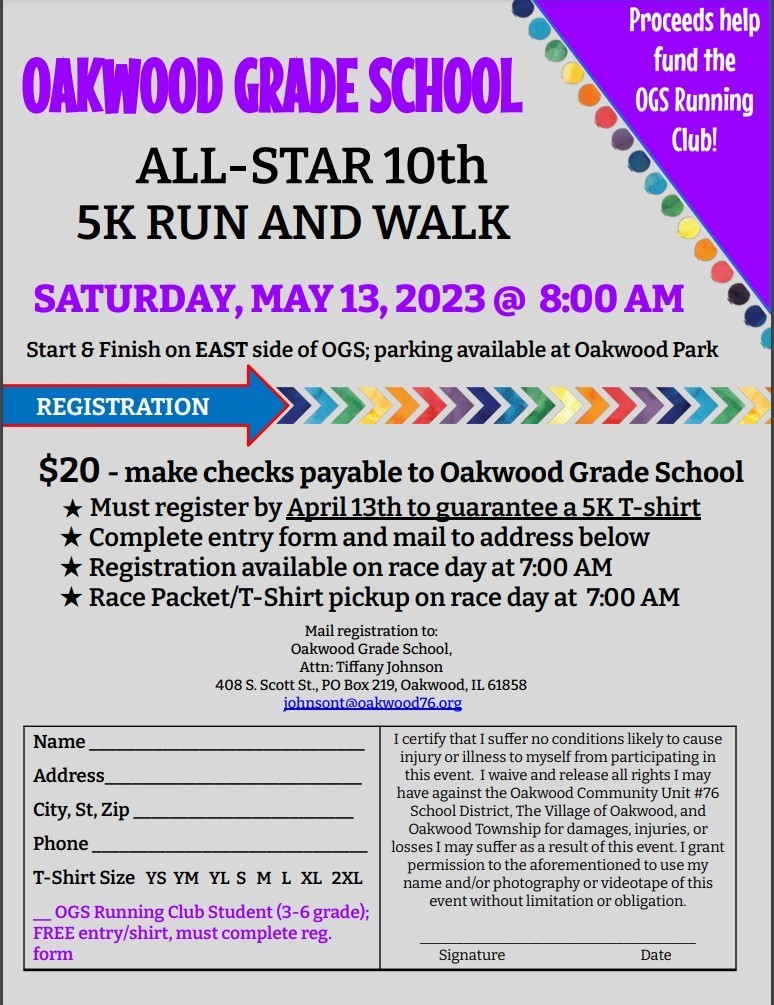 Gary Ludwig Memorial Golf Outing Friday, June 9, 2023 Danville Country Club 8:00 a.m. shotgun start - Can be under 21 to play in the morning flight. and 1:00 p.m. shotgun start (full) - Must be 21 to play in the afternoon flight. $100.00 per golfer Includes greens fee, cart, meal, and beverages. Hosted by: Oakwood Men's Club with the support of Oakwood Booster Club (Gary was one of the original founders of both organizations). If you would like to register a foursome for the golf outing you may call or text Amie at 217-304-4224, Adam at 217-497-6280, or Harlan at 217-260-3792.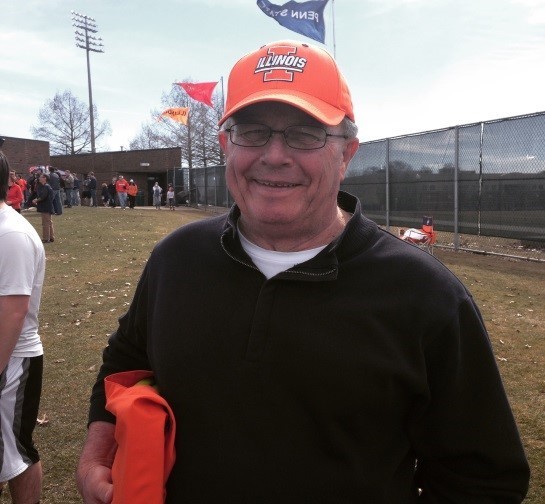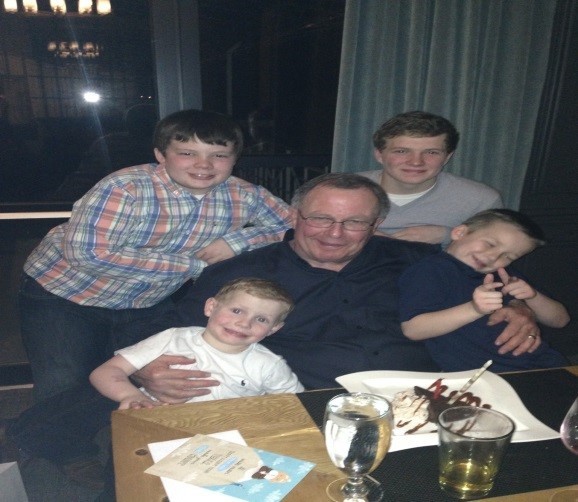 Attached are the photos of the new Science, Technology, Engineering, Art, Math "STEAM" program lab for our k-8 students and staff. Thank you to Mrs. Kimbro for organizing and working with staff to design this lab for our students! For the O - Making great things happen for our students!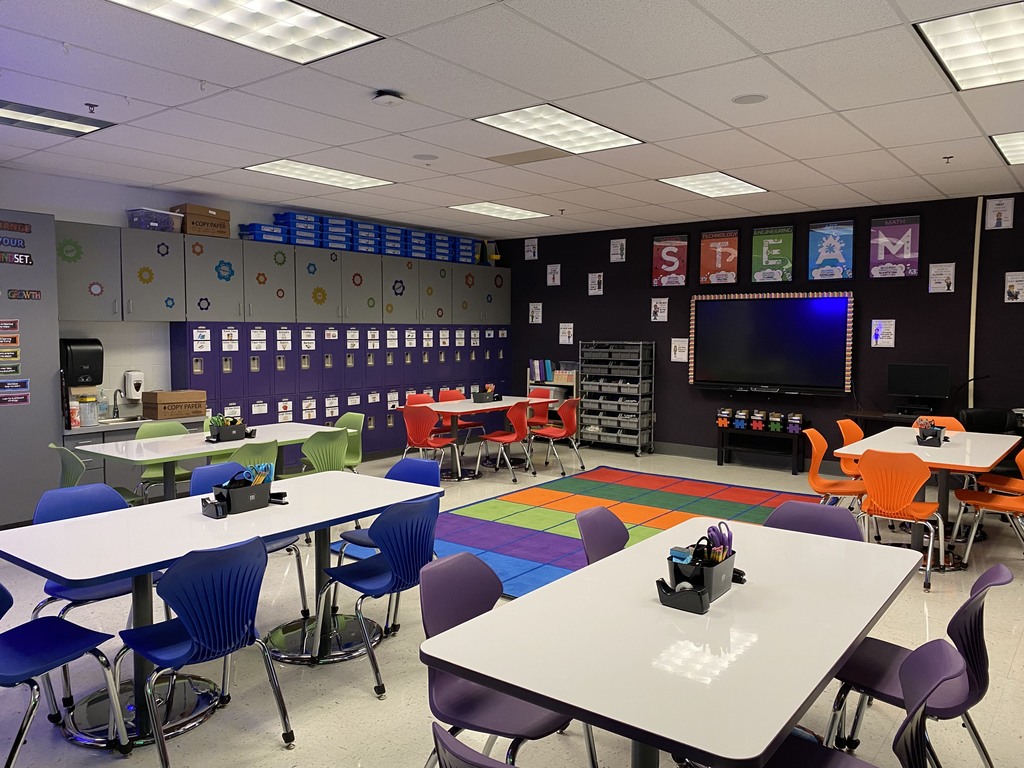 Our deepest sympathies and prayers are with the entire Prairie Central School District and Communities. 🙏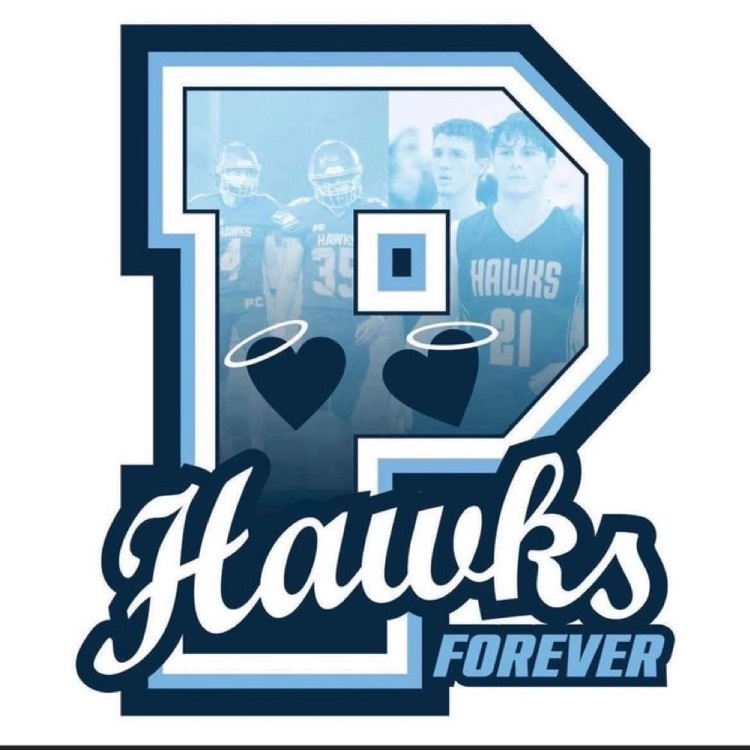 Notice of Vacancy ~ School Board In conformity with Illinois School Code section 105 ILCS 5/10-10, the Board of Education Oakwood Community Unit School District #76 hereby gives notice that the application for persons desiring to be considered for appointment by the Board to fill an anticipated vacancy created by the upcoming April 4, 2023 election. The person selected will serve until the next regular school election scheduled for April 2025. Qualifications - A candidate for the position must: a) be a citizen of the United States; b) be of the age of 18 years or over; c) be a resident of the State of Illinois and the Oakwood Community Unit School District #76 for at least one year; and d) shall be a registered voter, as provided by the general election law. The completed online application at
www.oakwood76.org
must be filled out and submitted no later than 4:00 p.m. on Friday, April 14, 2023. The Board will notify the applicant of the procedure to be followed for the interview. Click here for the application:
https://docs.google.com/forms/d/e/1FAIpQLScYwZQL1vdli-p56qHpsTHhxP9_NOZPG3RdAte1naAbjUq5pQ/viewform

The Vermilion County Sheriff's Department will be conducting training exercises at the old Newtown School Monday and Tuesday evenings 3-9 pm. So any unusual Police activity observed there is in partnership with this training. We are happy to support our local law enforcement and Vermilion County Sherriff's Department.

We welcome our parents to our schools! Please contact the school office or your child's teacher for any questions related to PT Conferences. Thank you!