Attached are the OHS Weekly Activities.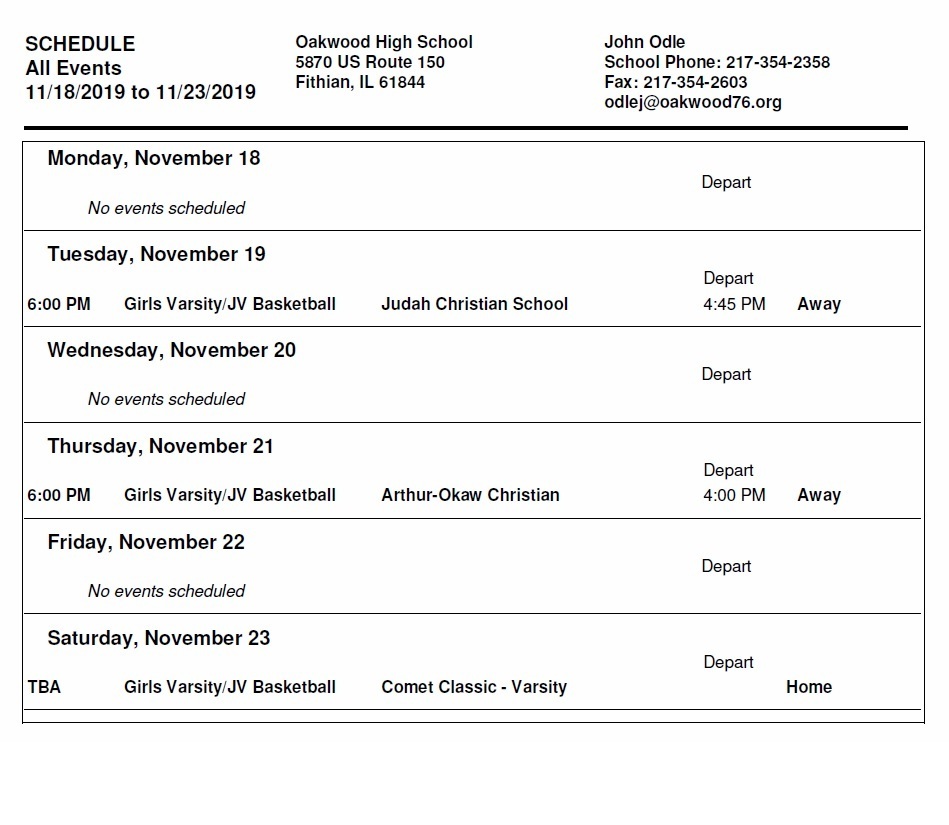 Katelyn Young will be signing her National Letter of Intent at 5:30 pm in the OHS Library. Everyone is welcome.

Tomorrow at 6 pm we will introduce our Winter Sports with Comet Madness at the OHS Gym. Admission is $2 for students and $3 for adults. Passes are not accepted for this event.

Friday November 15 starting at 6:00 pm is Comet Madness. We will introduce the Wrestlers, Comettes, Cheerleaders and Girls and Boys Basketball Teams. Come and see this years winter athletes. Admission: $2 per student and $3 per adult. No passes will be accepted.

Tonight is the OHS Fall Sports Awards Night at 6:30 in the gym. Come and honor our fall athletes.

All OHS/OSF fall sports athletes and parents/guardians are invited to attend the fall sports awards night that will be held on Wednesday, November 13 at 6:30 PM at Oakwood High School. Everyone will meet in the Gymnasium for the presentation of special awards.

Can't make it to the Oakwood vs Pana playoff game tomorrow at 1 pm. Listen to it on line at WTRH 93.3 FM radio out of Ramsey, IL.

Pana has informed us that the Ticket Booths and Gates will open at 11:45 am on Saturday for the 1:00 pm playoff game between Oakwood and Pana. Admission fee is set by the IHSA at $6.00 per person. No passes or special rates.

We will have a fan bus leaving OHS at 10:00 am Saturday for the playoff game. Students wanting to ride the fan bus must sign up at the OHS Office and bring your money by Friday at 1:00 pm. The price is $11.00 and includes admission to the game.

The Booster Club will meet tomorrow night at 7 p.m. in the OHS Library. Come out and see what projects are being supported by the booster club and how you can get involved.

The Student Council is having a food drive at OHS. We would appreciate you sending food in with your high school student. It is a competition between homerooms and there are prizes to be given. The food will be going to the Eastern Illinois Food Bank.

We have a playoff football game tonight at OHS at 7 pm. This is an IHSA event and admission is $5.00 for everyone. No passes will be accepted and there is not a senior citizen rate. This is an IHSA policy. Thank you.

We have a 2A Regional Championship Volleyball Match at Oakwood Grade School tonight at 6 pm. Tomorrow is the 2A Football Playoffs between Oakwood and Nokomis at 7 PM at Oakwood High School. Admissions for both event are $5.00 each. This prices are set by the IHSA.

Tonight at 6 pm is the 2A Regional Championship Match between St. Joe-Ogden and Monticello at Oakwood Grade School. Come out and watch some outstanding volleyball. Since this is Halloween we ask you to be extremely cautious driving around the grade school tonight. Thank you!

OHS Fall Sports Awards will be on November 13th at 6:30 pm. Athletes, parents and community should come out and see what our fall athletes have accomplished. #ItsGreatToBeYoungAndAComet

Oakwood Booster Club will have a meeting on November 6th at 7 pm in the high school library. Come to the meeting and see what the booster club is planning. They would appreciate your involvement.

A Marching Band Concert is being held tonight at the high school gym at 7 pm. Come out and listen to our talented band tonight directed by Carson Grove.

We have the 2nd night for the volleyball regional at Oakwood Grade School tonight. Oakwood will play St. Joe-Ogden at 5:30. Monticello will play Tuscola at 6:30. The Championship game will be tomorrow at 6:00 pm. It is warm in the gym so come watch some volleyball.

Tomorrow morning the Oakwood/Salt Fork Cross Country Teams will travel to the Regionals at Tuscola. They are schedule to run at 10 AM.

Tonight Oakwood Varsity Football Team is playing at Salt Fork at 7 PM. It should be a great game.