Softball meeting is tonight at 5:00 pm at the Fithian field. Field is located on the North side of town next to the park.

OJHS Softball Parent Meeting - Thursday, July 21, at the Fithian Softball field at 5:00 pm.

Friendly Reminder: There is a parent meeting for the 2022 Baseball team at 5:30 tonight at Oakwood Junior High School.

Permission slips for the 8th grade activity are due tomorrow, Friday, May 13th. Students going on the activity who did not participate in the fundraiser need to pay their $20 fee by Monday, May 16th. Please contact Mrs. Grimm or Mrs. Peterson with any questions.

Kona Ice is coming to OJHS on Tuesday, May 17th!! We will run classes on the 11:30 Dismissal schedule in order for students to attend all classes that day. Yearbooks will be dispersed and students will be able to enjoy Kona Ice in the afternoon. Incentive funds will purchase each student one Klassic size cup. Students may bring additional money to purchase a larger size or additional servings. Students who are current on all assignments will be able to stay outdoors for free time.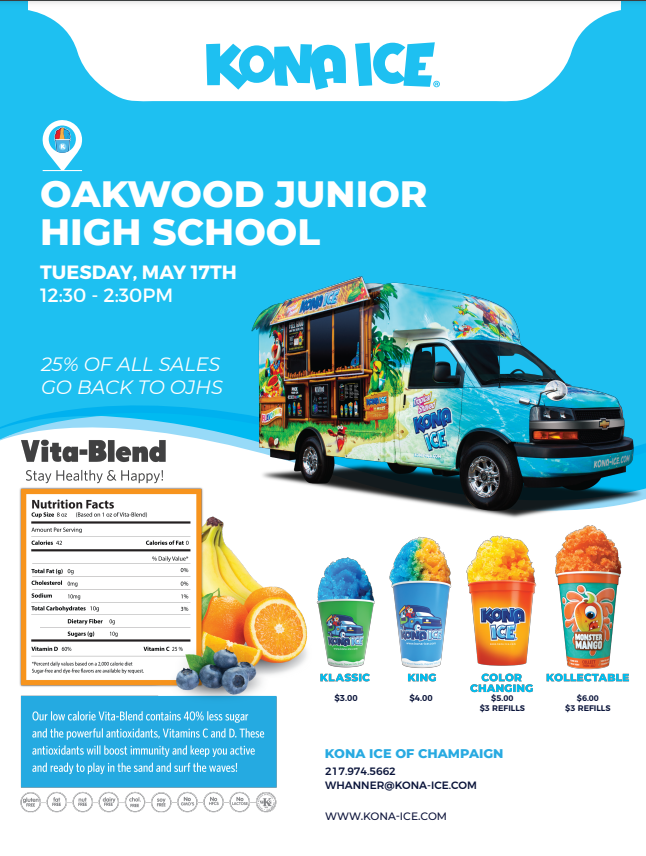 The OJHS Student Council is hosting a dance. Students have more information on their Google Classroom and there is a form to submit song requests.

Today's track meet to Salt Fork (March 18) has been canceled. There is no practice.

The Track meet at Bismarck-Henning for Tuesday, March 4, has been canceled due to weather. The OJHS team will go to Bismarck-Henning tomorrow, Wednesday, March 5, weather permitting.

Good Afternoon, Effective 4/1/22 Due to the construction at Oakwood Grade School, the transfer bus will not be loaded or unloaded at the former OGS transfer bus location. For the remainder of the school year, the transfer bus drop off and pick up location has been changed to Obie's (102 S. Oakwood St.). All Oakwood Junior High School students and Oakwood High School students who ride the transfer bus to and from their respective schools will need to be dropped off and picked up at Obie's. If you have any questions or concerns, please reach out to the Oakwood CUSD #76 Transportation Director: Mrs. Char Lunt Email:
luntc@oakwood76.org
Phone: 217-474-7602 Thank you for your patience during the construction process!

The OJHS Student Council is collecting canned frosting/icing for the Oakwood Area Food Pantry. Items are due by April 4th. Please see the flyer below for more information.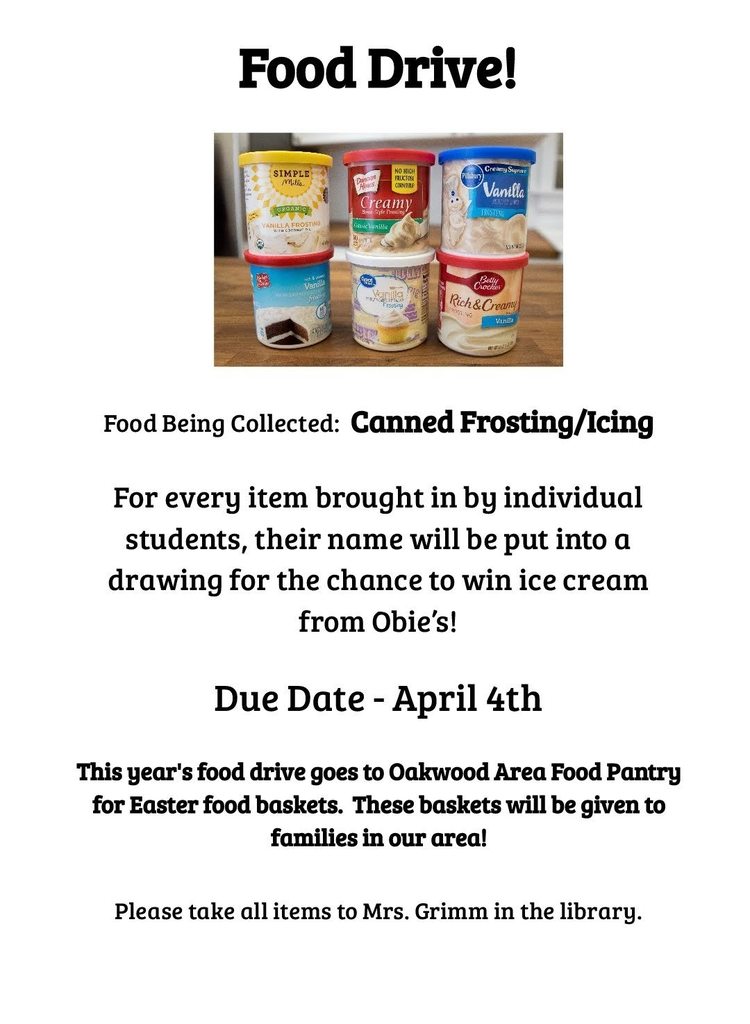 The OJHS Student Council will be holding a fundraiser this Friday, April 1st. Please join us to paint a rustic wooden sign, just in time for Easter. Cannot make it that night? No worries! Student Council members will paint one for you for $20 and you may pick it up at your convenience. Please see the attached for more information.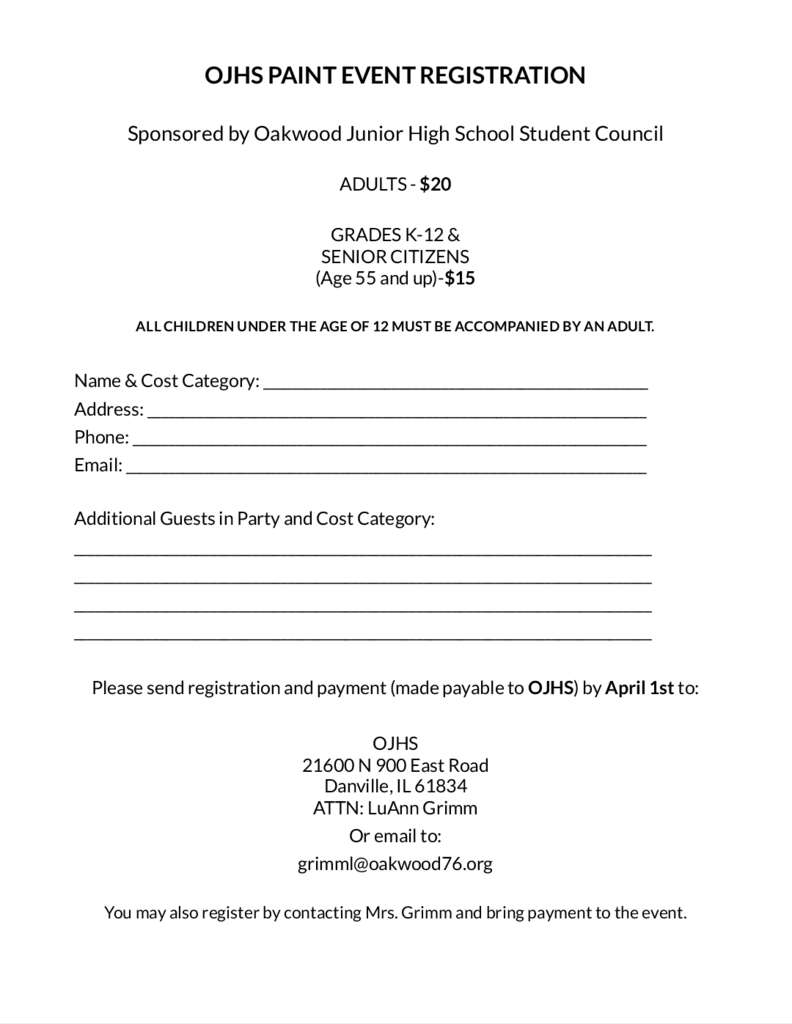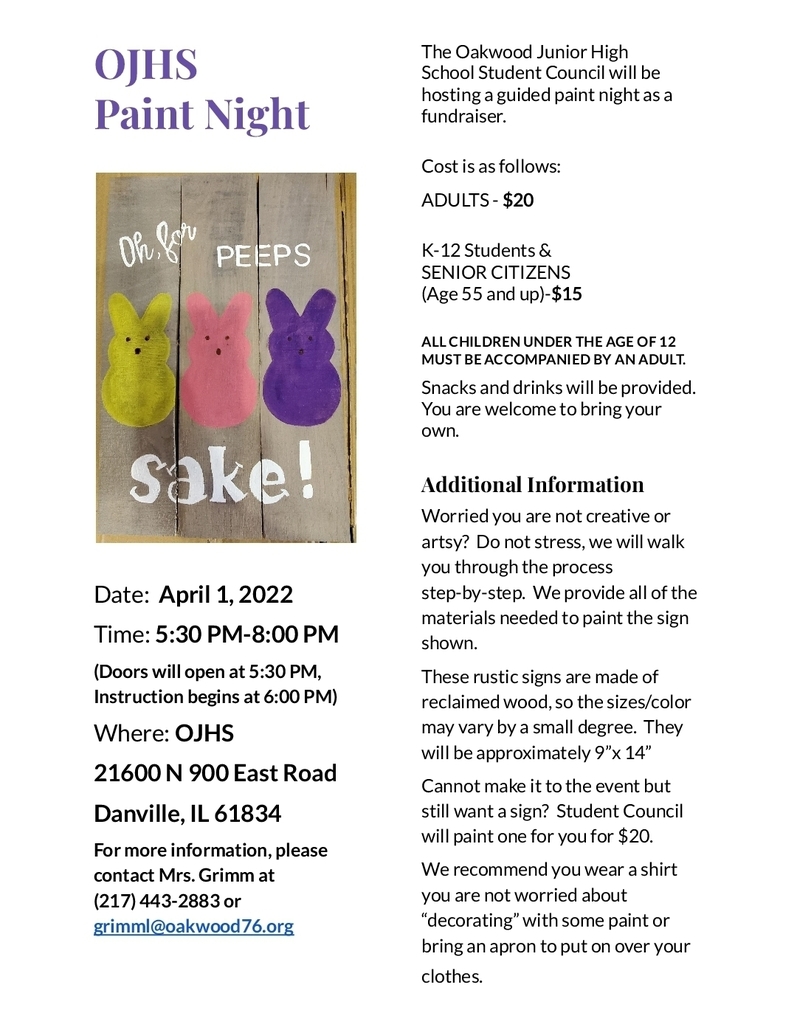 The Nothing Bundt Cakes fundraising orders will arrive tomorrow, March 28th, and will be available for pick-up between 3:00 PM to 6:00 PM. Please come to the cafeteria door on the the northwest side of the building. Please contact Mrs. Grimm or Mrs. Peterson with any questions.
The final day to order an OJHS yearbook will be Monday, March 14. If your student has misplaced their order form, please send $16 in an envelope marked with their name. Checks should be made payable to OJHS. There will be a limited number of extra yearbooks available for purchase upon delivery.

CORRECTION: Spelling Team will compete on Thursday, March 3, at Bismarck-Henning. (This is a reschedule from Thursday, February 23.)

Tonight's rescheduled volleyball game against Schlarman Academy will be at the North Campus, 2112 N Vermilion Street, Danville, with a 5:30 start time.
8th Grade students will be selling cakes from Nothing Bundt Cakes for their class fundraiser this year. The individual bundlets will be $5 each. Checks should be made payable to OJHS. Sales begin today and orders and payment are due on March 15th. Please contact Mrs. Grimm or Mrs. Peterson with any questions.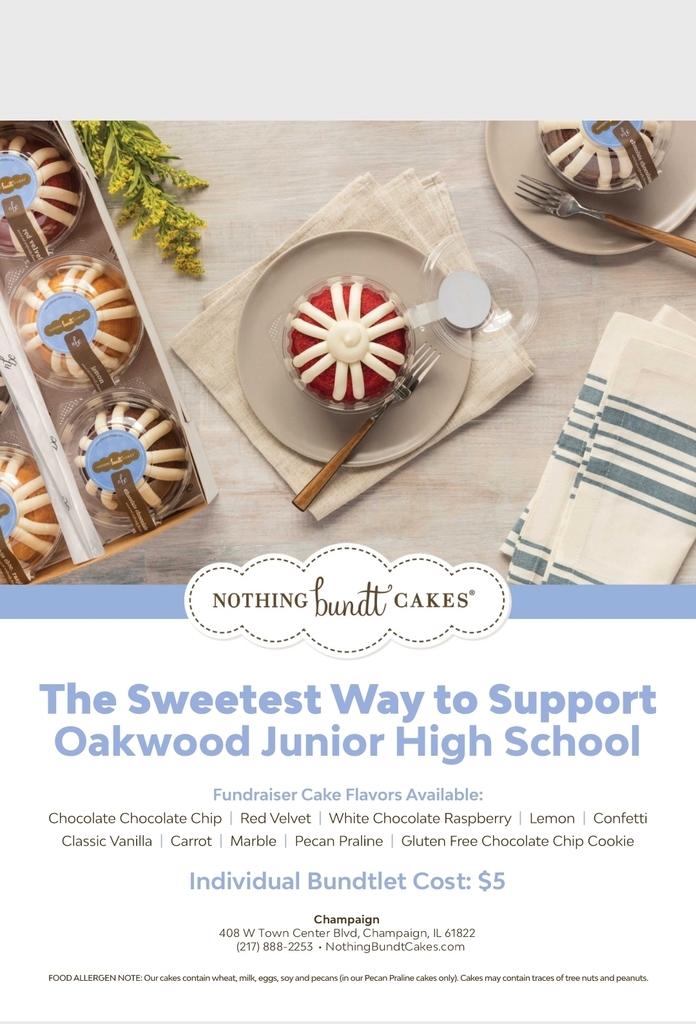 The final day to order OJHS yearbooks online is tomorrow, February 28th. Cost is $16. Online code is in the attached picture.

The OJHS Volleyball game against Schlarman Academy has been canceled for tonight, February 24.

Tonight's Spelling Match has been canceled for today, Thursday, February 24.

Project Success for OJHS has been canceled for tonight, Thursday, February 24. A virtual program is available through Google Classroom.