There is no school on Tuesday, November 8, and Friday, November 11. We are celebrating World Kindness this week. Wednesday - Tie Day Day (Peace, Love & Kindness) Thursday - Pajama Day (Dream of Kindness)

OJHS is celebrating World Kindness Week with dress up days.

The Oakwood Public Library will be hosting a Haunted Library!! Friday, October 21st Saturday, October 22nd 5:00pm-9:00pm Join us for fun, games, and spooky frights throughout the night! Open to kids of all ages.

Early Dismissal - Wednesday, Thursday, October 19-20, 1:40 pm. Parent-Teacher Conferences from 4:00 pm - 7:00 pm OJHS Newsletter -
https://www.smore.com/u7g46

OJHS Boys Basketball, Parents Meeting is Thursday, October 13, at 5:00 pm in the Oakwood Grade School Multipurpose Room.
Oakwood Junior High School Parent/Teacher Conferences for 1st Quarter are to be held on Wednesday, October 19th and Thursday, October 20th. Conferences can be scheduled in 15 minute blocks between 4 PM and 7 PM. Please go to the following link to sign up for a time slot:
https://www.oakwood76.org/page/parent-teacher-conference-information

Oakwood District will dismiss at 1:40 pm today. OHS Homecoming parade starts at 3:30 pm. GO COMETS!

Please see the attached flyer for information about the OJHS Spirit Week Days. Monday - Pajama Day Tuesday - Tropical/Luau Day Wednesday - Hat/Sunglasses Day Thursday - Country Day Friday - Purple & White Day All outfits must follow the school dress code.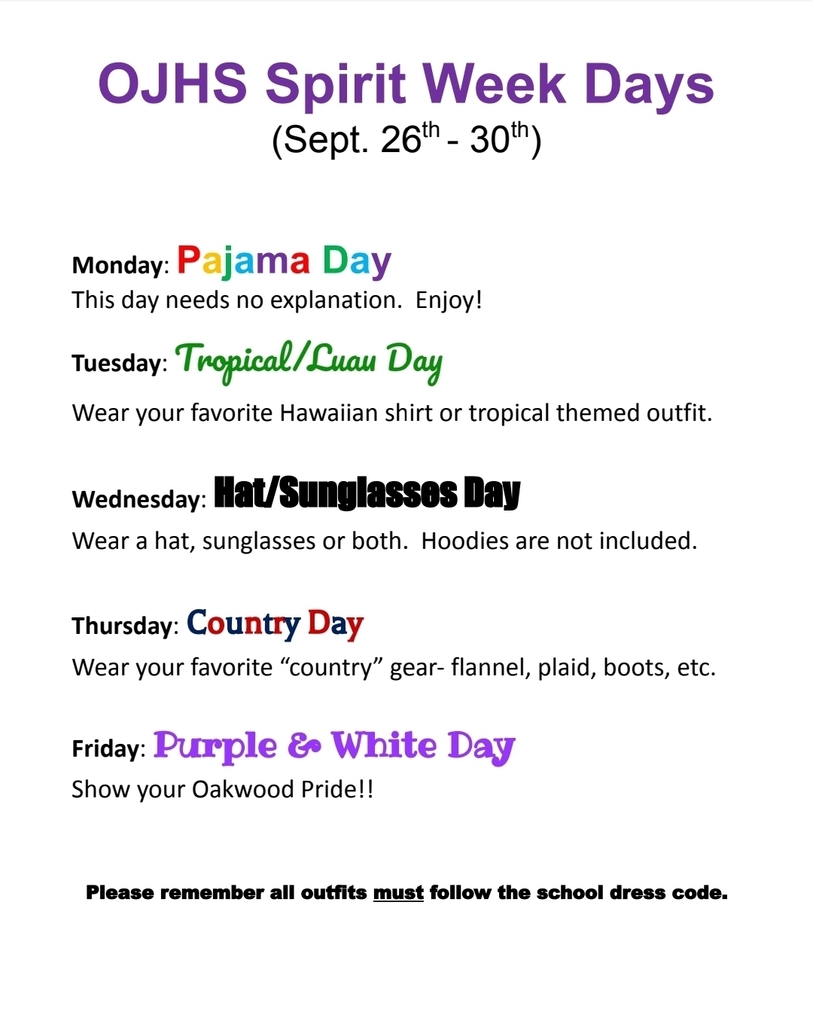 OJHS SPORTS UPDATE OJHS Softball vs Hoopeston Area 1-0 OJHS Baseball vs Milford 12-0 Check out today's OJHS Baseball game @ Rossville through Gamechanger App-Oakwood Jr. High Knights
Meals are NO LONGER FREE for all students. The USDA ended the waivers that allowed for free meals for all students at the end of last year. If you believe your student qualifies, you will need to complete a household eligibility application. Call 217.446.6081 for more information.


Softball meeting is tonight at 5:00 pm at the Fithian field. Field is located on the North side of town next to the park.

OJHS Softball Parent Meeting - Thursday, July 21, at the Fithian Softball field at 5:00 pm.

Friendly Reminder: There is a parent meeting for the 2022 Baseball team at 5:30 tonight at Oakwood Junior High School.

Permission slips for the 8th grade activity are due tomorrow, Friday, May 13th. Students going on the activity who did not participate in the fundraiser need to pay their $20 fee by Monday, May 16th. Please contact Mrs. Grimm or Mrs. Peterson with any questions.

Kona Ice is coming to OJHS on Tuesday, May 17th!! We will run classes on the 11:30 Dismissal schedule in order for students to attend all classes that day. Yearbooks will be dispersed and students will be able to enjoy Kona Ice in the afternoon. Incentive funds will purchase each student one Klassic size cup. Students may bring additional money to purchase a larger size or additional servings. Students who are current on all assignments will be able to stay outdoors for free time.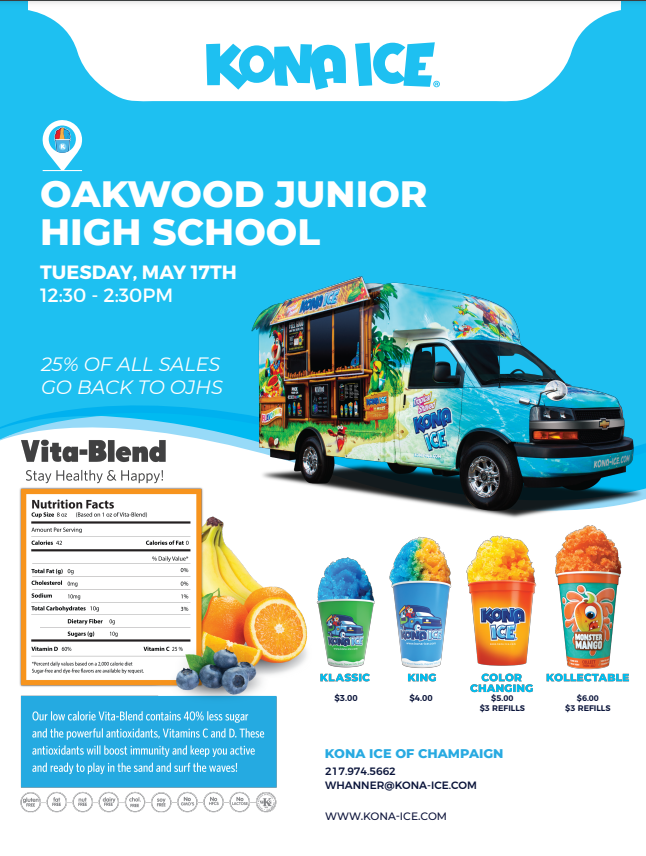 The OJHS Student Council is hosting a dance. Students have more information on their Google Classroom and there is a form to submit song requests.

Today's track meet to Salt Fork (March 18) has been canceled. There is no practice.

The Track meet at Bismarck-Henning for Tuesday, March 4, has been canceled due to weather. The OJHS team will go to Bismarck-Henning tomorrow, Wednesday, March 5, weather permitting.

Good Afternoon, Effective 4/1/22 Due to the construction at Oakwood Grade School, the transfer bus will not be loaded or unloaded at the former OGS transfer bus location. For the remainder of the school year, the transfer bus drop off and pick up location has been changed to Obie's (102 S. Oakwood St.). All Oakwood Junior High School students and Oakwood High School students who ride the transfer bus to and from their respective schools will need to be dropped off and picked up at Obie's. If you have any questions or concerns, please reach out to the Oakwood CUSD #76 Transportation Director: Mrs. Char Lunt Email:
luntc@oakwood76.org
Phone: 217-474-7602 Thank you for your patience during the construction process!