Members of the OJHS Student Council are participating in the 62nd Annual Illinois Association of Junior High Student Councils State Convention today. Instead of going to Springfield, they are joining virtually from the OJHS library.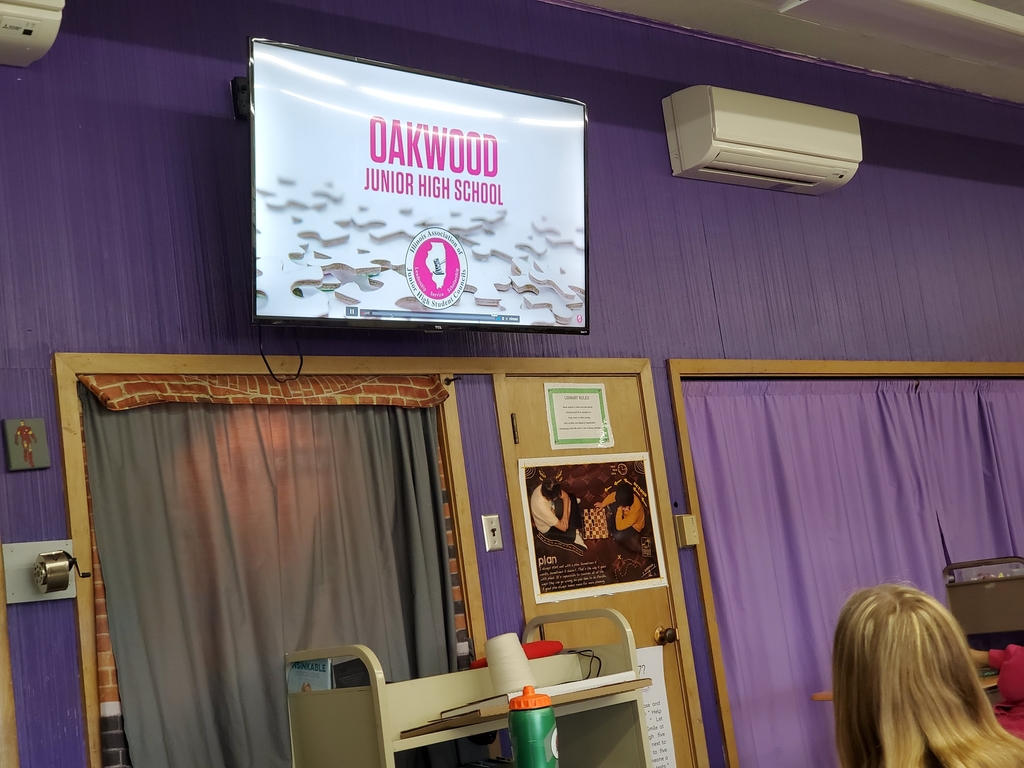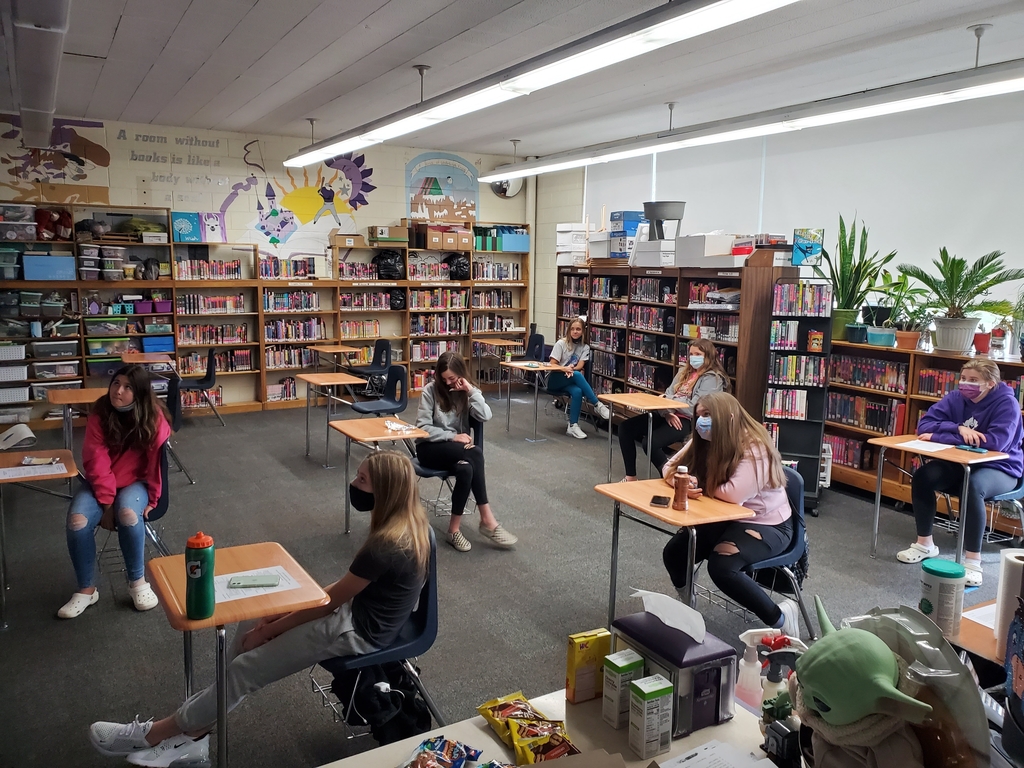 Attention Student Council Members Attending the Virtual Convention: Please arrive at OJHS by 9:15 AM tomorrow. The start time has been changed to 9:30 AM. It is scheduled to be over at 2:30 PM, so please have your ride be there to pick you up at 2:45 PM. There will be snacks and drinks provided, as well as Obie's pizza for lunch.

The OJHS Student Council is hosting KONA ICE on Friday, April 30, from 11:30 AM -1:30 PM. Prices are in the attached picture. Weather permitting, we will also have a dunk tank. Students may pay $1 for one ball or $2 for 3 balls to try to dunk Mr. Leeman or Mr. Delegge.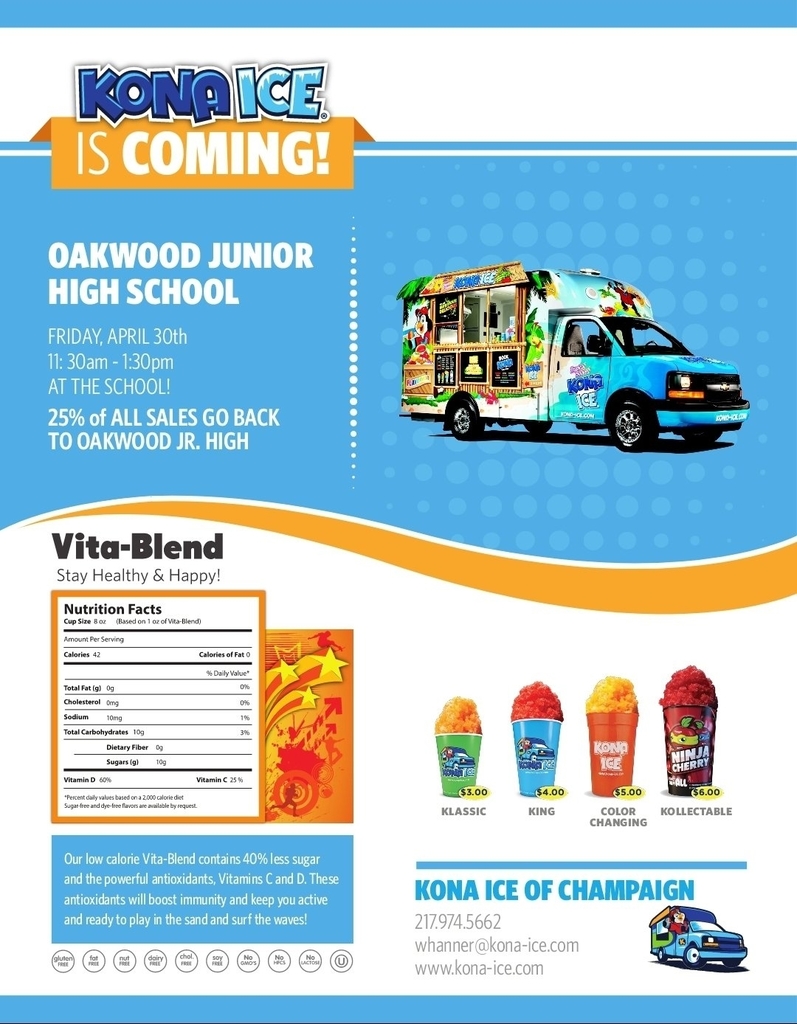 No morning or afternoon Project Success on Tuesday, April 6.

OJHS yearbook orders are due tomorrow, March 25th. If you wish to purchase one and do not have an order form, please send $15 in an envelope marked with the student's name. Please make checks payable to OJHS.

Today's track meet is at Hoopeston. There will be no field events. Running events have been moved to 4:00 pm.

Monday, March 15, will begin four day in-person instruction for the Purple/White Cohort students. Please see the attached newsletter.
https://www.smore.com/dackx

Last chance to order your 2020-2021 OJHS yearbook online! Online ordering closes tonight at 11:59 PM, 03/12/2021. Visit inter-state.com/flyerentry/53831Z to order online.


Spring Parent-Teacher Conferences will be March 24-25 from 4:00 - 7:00 pm. Conferences will be virtual like Fall conferences. Please sign up for conferences with the attached link:
https://signup.com/group/363190594070



Today's Seventh Grade Girls Volleyball regional game can be viewed on the Georgetown-Ridge Farm Schools Facebook page. Game has started.

Get your OJHS 2020-2021 yearbook now- online ordering ends on 03/12/2021! Please visit inter-state.com/flyerentry/53831Z to order online.

The volleyball game tonight can be found on NFHS. You will need a subscription to watch. Go to nfhsnetwork.com, search for Hoopeston Area High School and the link for the game is listed under upcoming events.


The OJHS volleyball game is at Salt Fork South tonight (3/1) with a 6:00 pm start. The game will be live streamed on YouTube. Search: Salt Fork CUSD 512

The Girls Volleyball game at Westville will be live streamed on the Westville Junior High Spring Sports Facebook page.


Tuesday, February 16, will be a snow day. There will be no remote learning or office hours. The volleyball game against Armstrong-Potomac and the boys basketball game against GIfford have been cancelled.